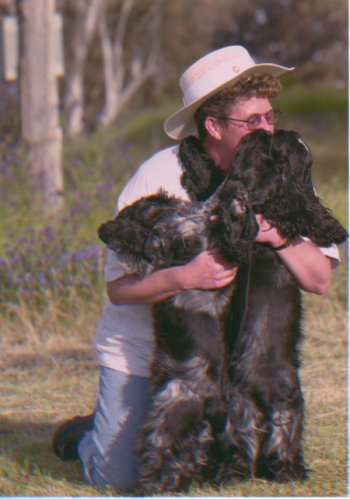 Watersmeet Kennels, established in 1998, is situated in the NSW township of Goulburn. My name is Lorraine Emerton, I work at the local hospital as a nursing sister. I have a grown up family of three boys who have always had a great respect for our animals. My husband Geoff is a great offsider to all my showing and breeding.

I had been showing for a number of years, starting in 1978 with a German Shepherd Dog, Derbester Zachary. I was given my first English Cocker Spaniel by Mr George Forsyth, Jodug Im Starwars. Aust Ch Brightleaf Limbo Rock was my first Australian Champion. I have been a successful exhibitor at both Sydney and Canberra Royals, taking places in most classes entered.

Travelling to dog shows with a friend who exhibited in the Toy group encouraged me to gain my second breed - the Lowchen. I obtained Aust Ch Mijochi Clinton at age 11 months and titled him at 14 months.

My first litter of Cocker Spaniels was in 1998 from my foundation bitch, Jodug Lady In Blue. This litter was the start of my blood line and with a lot of help and knowledge given to me by experienced people from the breed, I hope to develop a successful line of my own. I have attempted to breed back to old lines. My puppies are breed as pets first then, the litter is looked at by people that I consider to have a good knowledge of the breed, to help me decide the ones for show puppies. I breed for temperament, style and character.

My puppies are socialised from an early age, with children and adults of all ages. I pride myself on the great natures of my puppies and have had many positive comments returned to me. The puppies are encouraged to play and be outgoing, able to fit into their new homes with the least possible disruption to their and your lives.

I am very pleased to be able to tell you about my kennels and my dogs. If I can be of any further help please don't hesitate to contact me.